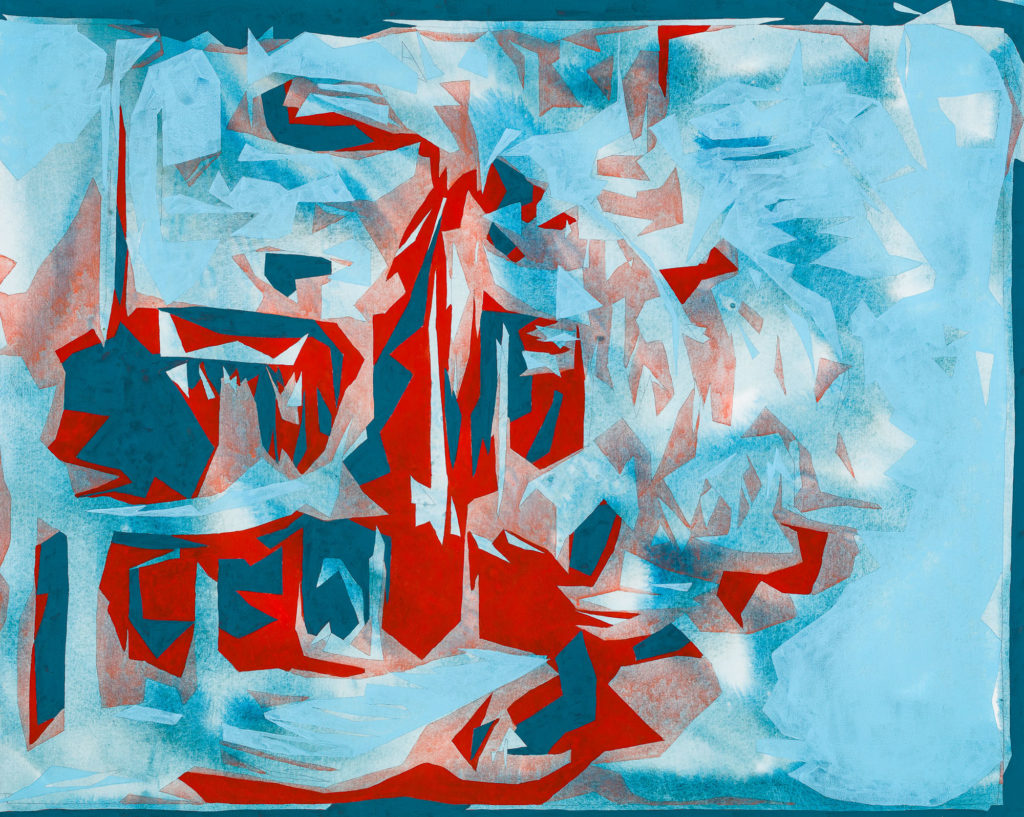 FRANCIS RUYTER
Hurricane/Time/Image
Curated by Mohammad Salemy
11 April – 9 May 2019
Opens 10 April 19h – 21h
Franz Josefs Kai 3
Vienna 1010
The exhibition Hurricane/Time/Image reroutes a new line of understanding around Francis Ruyter's painting practice by sandwiching his new works with a flash retrospective of his germinal work from the 1990s. Curated by Mohammad Salemy, it will consist of drawings, paintings and objects, dated from 1990–94 and 2015–19 as well as new display treatments including projections and reproductions of the archival source material. The project takes place at Franz Josefs Kai 3, an exhibition space programmed parallel to the Angewandte Innovation Lab, a program of the University of the Applied Arts in Vienna Austria.
Hurricane/Time/Image is meant to disrupt narratives of artistic, aesthetic and career developments as well as social conditions surrounding the production of art and subjectivity specific to Ruyter. It suggests that the chaotic force of technology is always at work throughout an artist's oeuvre, rearranging the relationship of past, present and future into new constellations. Rather than using the recent works to make a new sense out of Ruyter's earlier practice, it brings to light embedded concerns, themes and motifs which have been resonating in the artist's practice since the early stages of his career.
The new works are derived from the Farm Security Administration/Office of War Information (FSA/OWI) digital archive at the Library of Congress with which Ruyter has been working to various effects since 2009, focusing in this body of work on photographs he has found using the search keyword "machine." This particular filtering of the archive highlights how the artist's thoughts on machines—physical, biological, virtual and social—have informed his oeuvre since his drawings and paintings from the early 1990s.
While the older works signal the transformation of the analog media to digital and the persistence of older technologies of presentation and modeling embedded in digital technologies, the newer works go even further by investigating the abstract, geometric and, essentially, inhuman essence of representation as well as highlighting the role of algorithmic epistemologies which underpin the emergence of neural networks, machine learning and machinic vision. The exhibition showcases Ruyters' visionary outlook towards the connections between art and media technologies, insisting on the primary role of painting in meditating their similarities and differences.
The exhibition's abstract indexing of the analog, the digital and the algorithmic, parallels an equally important transformation in the artist's own life. Starting in 2016, Ruyter began a gender transition. In this respect, Ruyter's work, past and present, can be considered a plea to set aside the question of human identity in order to understand the storm-like qualities of gender, a process which is analogous to the disruptive essence of technogenesis central to his practice as a painter. Approached from this angle, the strongest thread binding the artist's earlier works to his latest practice is the struggle to sequester the human-centered, and "natural" appearances of analog representation, from its inhuman, cybernetic reality. The exhibition deemphasizes human experience in favor of chaotic and cosmic shifts which are at the heart of the evolution of language, reason, and logic amongst animals, humans and machines alike.
Hurricane/Time/Image is generously supported by the Federal Chancellery of Austria, Arts and Culture Division, Franz Josefs Kai 3 and The New Centre for Research & Practice.
Francis Ruyter is a Vienna-based American artist. He has exhibited internationally since 1993. His selected solo shows include Alan Cristea, London; Galeria Senda, Barcelona; CONNERSMITH, Washington, DC; 11R, New York; George Kargl, Vienna; Taka Ishii, Tokyo; Galerie Thaddaeus Ropac, Paris; Team, New York; and Leo Koenig, New York, among others. Ruyter has been active in the Vienna art community since 2003, producing more than 30 exhibitions of other artists at Galerie Ruyter and other spaces. He was a guest professor at the Academy of Fine Arts in Vienna and is a member of the Association of Visual Artists Vienna Secession.
Mohammad Salemy is a Berlin-based artist, critic and curator from Canada. He holds an MA in critical curatorial studies from the University of British Columbia. He has shown his works in Ashkal Alwan's Home Works 7 (Beirut, 2015), Witte de With (Rotterdam, 2015) and Robot Love (Eindhoven, 2018). His writings have been published in e-flux journal, Flash Art, Third Rail, and Brooklyn Rail, Ocula and Spike. He has curated exhibitions at Tranzit Display (2016) in Prague. Salemy's curatorial experiment "For Machine Use Only" was included in the 11th edition of Gwangju Biennale (2016). In 2018, Salemy cocurated Sofia Queer Forum with Patrick Schabus at the Sofia City Art Gallery's Vaska Emanouilova branch.