Interview By Eva Karcher (Excerpted)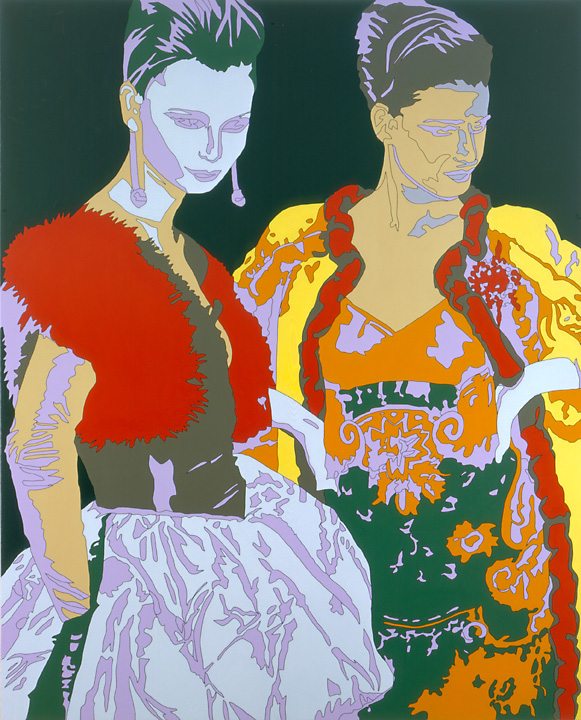 originally published in Lisa Ruyter/A Lady Mislaid; published by Galerie Thaddaeus Ropac, Salzburg/Paris and Arndt & Partner, Berlin/Zürich
The following interview is divided into short thematic sections, ranging from A for Attractiveness to S for Style.
ATTRACTIVENESS
DID YOU LIKE HOW YOU LOOKED WHEN YOU WERE YOUNG? MOST YOUNG GIRLS ARE HAVING HUGE PROBLEMS ACCEPTING THEIR OWN BODIES.
I certainly felt awkward when I was young. I was especially ashamed of my hair. I would imagine that my hair seemed to become suddenly very dirty and oily and limp. I am sure it was not the reality, but that was my experience, and the minute I became aware that I thought my hair was dirty, it consumed my every thought until I could get somewhere to try to fix it. At that time, I hated almost all of my clothes. I remember going to buy a coat with my father, who wanted me to get a very girly, (ugly in my opinion) coat, when I wanted a ski parka. I threw up my lunch all over the store in response.
SO YOU ALREADY HAD YOUR OWN IDEAS ON STYLE?
Yes. I developed a uniform in my early teens, hiking boots, jeans, t-shirt and baseball cap. As a teenager, I became a bit of a punk, and would cut my own hair, and bleach it until it was very damaged and would stand strait up with very little help. All of it was certainly a rebellion against beauty codes, but for me it was much more of a rebellion against gender codes. I certainly had self-esteem problems, but I never experienced it as feeling ugly.
DO YOU FEEL ATTRACTIVE TODAY?
I feel attractive most of the time. I like to play around with what makes me feel attractive. I still have a really hard time feeling attractive through other people – I am very uncomfortable with compliments, more so about clothing and styling, less so about physical health and fitness. My style sense has functioned as a fortress for so long, I am absolutely lost when anyone actually manages to connect with the feminine side of me.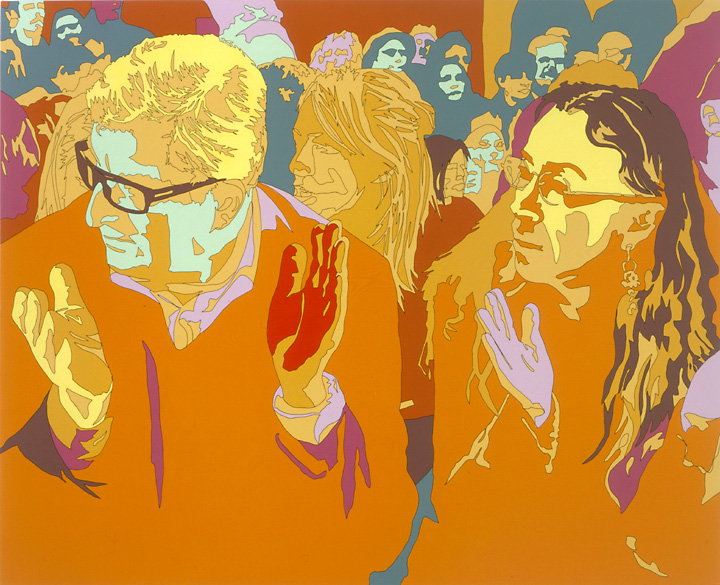 WHAT DO YOU THINK OF THE PRESENT BEAUTY-MANIA AND THE INCREASING CONSTRAINTS FOR WOMEN AS WELL AS MEN?
Beauty codes are very connected to gender codes. I read a lot of books when I was young, especially fantasy books, and I always identified with the male characters, never, ever the female characters. But this is a new understanding for me, I never realized until lately that it was odd to grow up and have never identified with any female characters, pop stars, celebrities, and kind of sad to have had no strong female role model.
IS ALL THIS FUSS ABOUT BEAUTY CAUSED BY THE MEDIA AND ADVERTISING?
My feeling is that the pressures which function as a terror on females are also a terror on males, and vice-versa. Terror is terror because it affects the direct victims as well as others around them. Anything that makes it difficult for one person to be comfortable enough to just be with another person is not good for either party. The source of the discomfort is often outside of these media landscapes – the source of discomfort is rooted in our childhood experiences. We are supposed to learn how to survive or do well in our environment. So many people live as if this media landscape is part of some separate privileged (or degraded) world that they will never have access to. But that is not true – it is in their hands, on their TV etc… How can you feel comfortable being in an environment that everyone tells you that you are not a part of?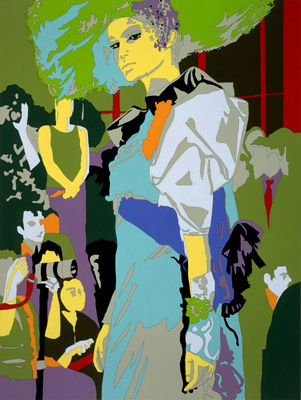 FASHION
FOR YOUR MOST RECENT SERIES A LADY MISLAID (2004), YOU DREW YOUR INSPIRATION FROM PARISIAN HAUTE COUTURE SHOWS. THE PAINTINGS WERE MADE FROM PHOTOS YOU TOOK ON THE SPOT. HOW DID YOU MANAGE TO OBTAIN THE PRIVILEGE OF TAKING PHOTOS THERE?
It happened by chance. Last spring I came back to New York after a trip feeling pretty exhausted. Some friends convinced me to join them for a party given by Interview magazine. There I ran into Ingrid Sischy, the chief editor, telling her that I was thinking about doing a series on fashion but didn't have access to the Paris Haute Couture shows and she answered, "well, you should cover the shows for us"! So I used the photos I took with my digital camera of the catwalks from Valentino to Chanel as models for the series of paintings I did.
THE WORD "MISLAID" IN THE TITLE HAS UNDERTONES OF "SEDUCED". WHAT IS YOUR RELATIONSHIP WITH THE PARALLEL WORLD OF FASHION?
To call the whole series A Lady Mislaid is kind of a funny pun, but also clearly reflects, in different angles, my personal relationship to a displacement that I often feel. I am fascinated by the perfection and the artificiality of fashion. John Galliano's show for Dior is unrivalled here. Too many frills, hairstyles too high, dresses too heavy. I love the kitsch in all this glamour, the self-irony of these productions. It's like Scarlett O'Hara taking the drapes and beginning to turn into a transvestite. It's elegant and laughing at its elegance at the same time. I think that it would be interesting to draw a comparison of the functioning of style in my work, to the place of style in fashion.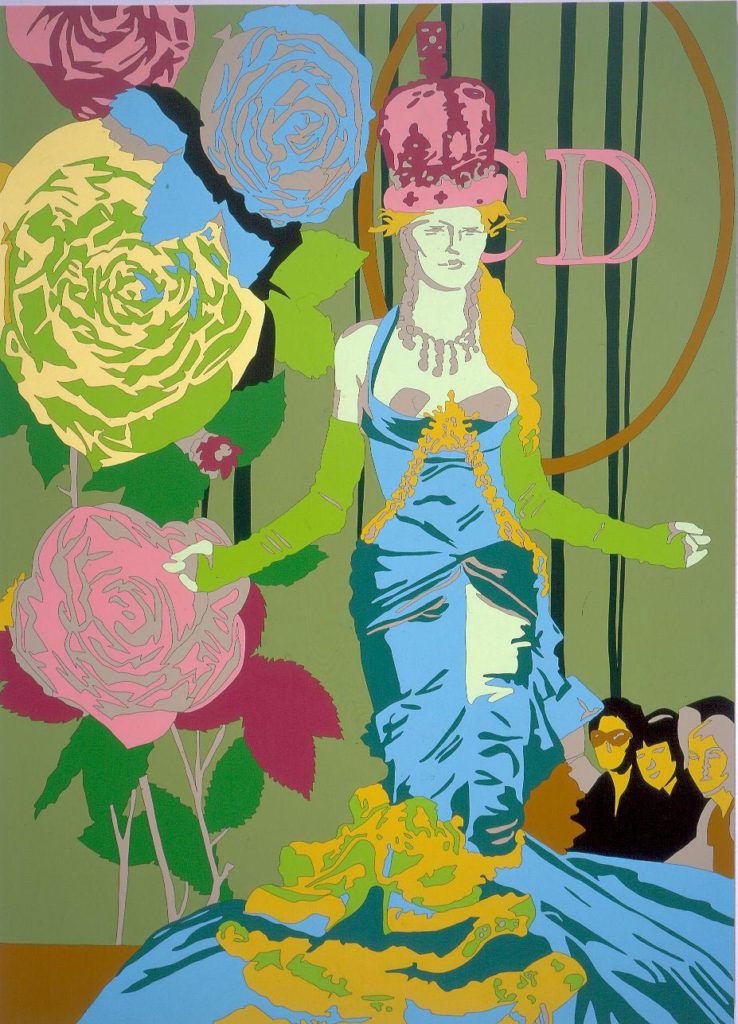 WHAT WAS IMPORTANT TO YOU IN THIS SERIES?
The structure of my paintings allows for many different readings of the subject matter, and beauty codes are perhaps one angle. My work is deliberately both specific and elusive. This range of dealing with different kinds of figuration – in the paintings the runway models look different from the audience, and the mannequins are different from each other and the other people that may also be in the picture. The whole point is that there does not seem to be such a clear line defining the corporeal. The sense of ones body is shaped by more than just the sense that your skin is the edge. It is only one of many edges that define that corporeality. Last but not least, with these paintings I want to show the radical elegance of the fashion world, its frivolous moment of excess.
WHO IS YOUR FAVORITE DESIGNER?
I like Comme des Garçons, Martin Margiella and Helmut Lang. Only recently I discovered Lanvin. Alber Elbaz designs clothes that are really my style, beautiful and very simple. They are both – incredibly elegant but also totally casual. He is my favorite now.
WOULD YOU CALL YOUR TASTE "DEMANDING"?
I think so. Even as a child I was aware that my taste did not match the world that I grew up in. I always liked the most expensive things, and this was misunderstood, of course. But my preferences had absolutely nothing to do with money, just with a certain aesthetic that is based on quality. Craft is very important to me. Materials have to be as high quality as possible, whether they are natural or artificial, and they have to be expertly worked. Any compromise in taste is what I can't stand.
THERE IS INCREASING COLLABORATION BETWEEN FASHION DESIGNERS AND ARTISTS. I THINK FOR EXAMPLE OF TAKASHI MURAKAMI'S DESIGNS FOR LOUIS VUITTON. ARE YOU INTERESTED IN THIS KIND OF COLLABORATION?
It does interest me. I'm often asked, but you have to realize that it's kind of tricky to let yourself in for this kind of collaboration, because it's not really a genuine co-operation between two equal partners. It's more a commission; it's a very expensive person to hire very cheaply. Usually the artist makes too many compromises. He lets himself be used by the fashion label, which is much more powerful commercially, and he becomes a tool with which the label raises its own status on the cheap. Art gives fashion cultural power, but in doing so it inevitably loses some of its impact as a cultural commentary. On the other hand, it is of course a good thing for art to have an increasingly high status in fashion magazines. It's really important to me that a work of mine photographs well and is reproduced well and looks good in reproduction. We can assume that far more people will see the photos than the actual paintings.
BIOGRAPHY
YOUR CAREER SEEMS TO HAVE BEEN QUITE METEORIC. HOW DID IT START?
No, my career started pretty slowly. The first years were hard. In 1986, I left Maryland to go to school in New York, all I wanted was to get away from the provincial thinking surrounding me. In New York I had to finance my own studies and living expenses – I got no money from my parents for college. My last year of high school I had two full time jobs, working backstage in a theater and making stained glass windows, and I played on the school soccer team. I can't even list all the jobs I have had before my work began to sell. I began to show quite early, and at the end of a really successful year of group shows I had a very well received solo show at Friedrich Petzel in New York. It was too much too fast; the work was not there yet, and I felt pressure to hang out and party with specific people who I really did not connect with. It was all too much for me at that moment and I went back to Maryland to take a break.
WAS THE SITUATION BETTER THERE?
No. I was completely isolated. Nobody came to look at my work. I had no money I was desperate. I was working two jobs, and neither one would give me enough hours to earn health insurance. I was losing money, I was running out of money, I couldn't make artwork and I was getting desperate and desperate and so – out of desperation – I opened an art gallery. I got a guy in Washington D.C. to rent me space for three months. I did two shows there, and I spent the entire time on the telephone. I was also doing a messenger job. And this really got me back in touch with people in New York.
WHEN DID SUCCESS COME?
Slowly but steadily. I consider many of my shows super successful on different levels. In Europe, more commercially in a way, and in New York, more artistically. Perhaps this is just because of my point of view as an American, the work looks different perhaps in different places.
YOU'VE HAD AN INTERNATIONAL REPUTATION ALL THE WAY FROM AUSTRIA TO KOREA FOR ABOUT FIVE YEARS NOW. AT THE SAME TIME, YOU RUN A GALLERY UNDER YOUR OWN NAME IN YOUR ADOPTED CITY, VIENNA, WHERE YOU SUCCESSFULLY ARE SHOWING YOUNG AND ALREADY WELL-KNOWN ARTISTS SUCH AS SLATER BRADLEY, CECILY 8ROWN OR PAUL P. IS THERE NO COLLISION BETWEEN YOUR OWN WORK AND YOUR ACTIVITIES RUNNING A GALLERY?
I don't really consider myself neither an art dealer nor a patron. For me it is a real emotional thing being in art all the time. It gives me control of what I'm doing which means that the work in the end is not as compromised as it might be otherwise. Unlike many other artists who cut themselves off, I want to be accessible, open, in communication with others. It helps me to understand the rules of the business better by seeing it from so many different sides.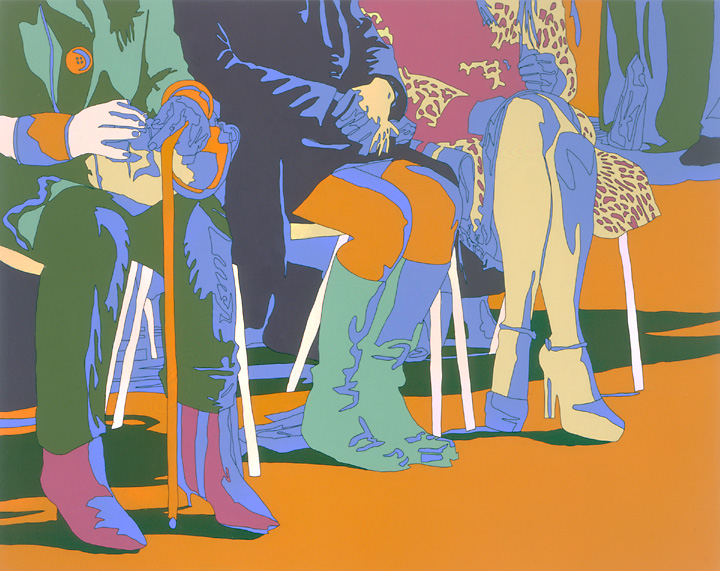 SERIES
HOW DID YOU COME TO PAINT YOUR SERIES?
I realized early on that it's impossible to achieve in a single painting the variety of meanings that were important to me. Series, on the other hand, are like a higher authority, providing order. It's no longer a matter of the individual picture, the painting itself, but of a kind of visual narrative.
BUT EACH WORK STILL HAS TO STAND ON ITS OWN…
Yes, but one doesn't exclude the other, if the idea's right. I started with the big collage elements, with figures from magazines, especially fashion magazines. I projected them on to a screen and mounted them into scenic pictures. But soon I couldn't find any more suitable models – especially landscapes as background elements. Then sometime in 1999 I went out into the street and started to take my own photos: snapshots of front gardens and houses and industrial buildings, all frontally photographed, like portraits. I've always traveled a lot, and I took photos on all these trips, first with film, then more recently with a digital camera. One day, when I was taking photos of people lying in the sun in Central Park in New York, I suddenly had the idea of cemeteries as motifs, and I thought: "Wow, cemeteries – that's the vehicle for showing landscapes in a contemporary way." This is how my first thematic series Imitation of Life came to be.
IMITATION OF LIFE IS ALSO THE TITLE OF THE LAST MELODRAMA (1959) BY THE GREAT AMERICAN DIRECTOR DOUGLAS SIRK. A FILM HIGHLY PRAISED BY RAINER WERNER FASSBINDER, IT DEALS WITH PASSION AND EMOTIONS, AND FOUR WOMEN'S ATTEMPTS NOT TO LEAD SECONDHAND LIVES. WHY DID YOU CHOOSE THIS PARTICULAR TITLE?
Douglas Sirk's Imitation of Life is a melodramatic remake of a 1934 film by John Stahl with the same title. The remake idea fascinated me – also the way that style and content are intertwined in his work. It shows clearly how representation is done – from countless relationships and cross-references. Representation is ambiguous, especially today, when images seem more immediate than reality.
EACH WORK IN THE CYCLE BEARS A FILM TITLE. YOU ALSO USE FILM TITLES FOR YOUR LATER SERIES CAN'T SEE THE FOREST FOR THE TREES (2003) AND NOW A LADY MISLAID. WHY?
There are countless film titles to be found easily enough in the Internet. I always use them associatively. For example, I have one series entitled Follow the Boys, which deals with clubbing and party lifestyle. Here I chose the title by searching under keywords such as "alcohol" or "flirt." For A Lady Mislaid, there were suitable titles such as Lady for a Day, The Man in the Mirror, The Boy Who Turned Yellow or The Girl He Left Behind. I think this kind of collage is really in keeping with our age, because this is how our brains work today. In the 21st century there are no longer the simple bipolar structures of the 20th, but many parallel networks. We live in invisible satellite systems that make the world increasingly transparent for us.
CAN YOU SAY A BIT MORE ABOUT YOUR PIECE STATIONS OF THE CROSS?
This piece was made originally for the context of the Basel art fair, and has most recently been shown in a church setting, where most of the viewers are people attending mass. I think it is interesting to begin and end in that order – it seems reversed or something. The piece was all about reversals – the big bars on each panel also form an upside down cross. Each panel is a window, yet since they are paintings, you are not able to look out. To finish this project, which was a trial in itself, I had a dialog going with the writer Jack Miles. This really ended up being collaboration, his text is a part of the piece, and fits both the traditional story behind the Stations of the Cross and makes a narrative structure out of my images. I have always wanted to resolve some problem I sense in the relationship of narrative structures and two-dimensional pictures.
AND WHAT ABOUT CAN'T SEE THE FOREST FOR THE TREES?
In this series I had a very clear idea of what I wanted to do by painting trees, and it was mostly about rendering the vanishing points of paths in the woods. For me, this path represented knowing exactly what I wanted and knowing exactly how to get it. But in the course of working with the cool abstractions of branches, leaves and tree trunks, I soon fell into the Can't see the forest for the trees kind of trap. I started with a clear intention and got lost in the abstraction of the details.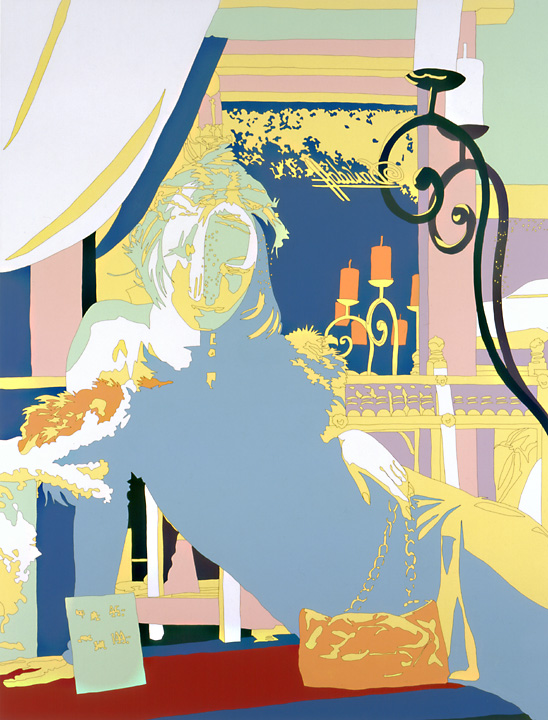 STYLE
DO YOU SEE YOUR ROOTS IN POP ART?
No. When I was in school, there seemed to be a polarized relationship between Pop Art and Minimalism. I always related much more to the minimalist side of things, my hero was Robert Smithson. More recently, I believe that Andy Warhol's films are the greatest legacy he has left for my generation and the impact has yet to be fully understood. David Hockney was my first favorite artist, and later on many of the American WPA-era documentary photographers. I developed my style through leaving things out. I found something ridiculous about great gesture and soul bearing in painting. To me, not one of these artists I mention stands out as the biggest influence on that part of my work.
FORMALLY, YOUR STYLE CAN BE DESCRIBED BY ITS UNMISTAKABLE TWO-DIMENSIONALITY AND USE OF COLORATION. HOW DID IT EVOLVE?
I wanted to achieve a kind of democratic level of all elements in my pictures. At some point I began to outline the contours of the bodies and objects, and that was it. Two-dimensionality creates the critical objectivity I need for the medium of painting. I use it as a form of abstraction. Above all, it complies with the digital perceptive constructions of our time.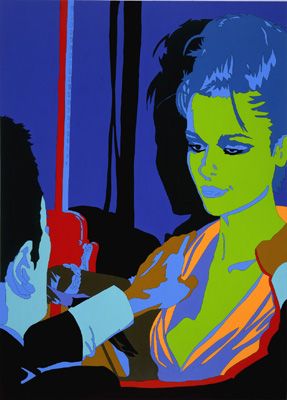 THIS ALSO MEANS THAT IMAGES ARE CONSTANTLY OVERWHELMING US, LIKE TSUNAMIS. DOESN'T YOUR ENTIRE WORK ACTUALLY DEAL WITH APPEARANCE AND REALITY, WITH LIFE FILTERED THROUGH COUNTLESS LENSES, AND ITS INSIPID COPIES?
Yes. Considered this way, the two-dimensionality of my pictures could be seen as a statement and a reflection on the increasing shallowness and interchangeability of our physical existence.
BECAUSE TODAY WE FORM AND MANIPULATE OUR BODIES PRIMARILY FOR PHOTOS, EVEN GOING AS FAR AS AESTHETIC SURGICAL OPERATIONS?
Exactly. Our cult of the body aims at media images, not real ones – that's the crazy thing. More than anything else, we want to look good in front of the camera.
SO IN THIS RESPECT ONE COULD ACTUALLY EQUATE SURFACE WITH SUPERFICIALITY?
Seen like this, yes. But my counterbalance to superficiality is color. That's what makes my works paintings.